As part of our development process, we take each merge request or commit and build it natively on all of our supported architectures. It's a bit painful on ARM as GCC is properly big, so a three stage quad language bootstrap plus the testsuite can take 19 hours.
I thought I'd profile one of the new PandaBoard ES hard float builders to see where we're bound. Here's the result: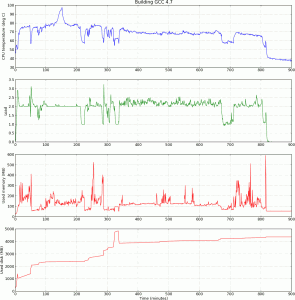 The load looks good. Both cores are fully utilised for most of the build. The memory usage is OK. I've seen spikes when running the testsuite in the past but that seems to have cleared. The disk usage is fine at around 5 GB peak.
The spike in temperature is when the sun came through the window. Must fix that. The drop off to the right matches the overnight drop in ambient.
The good news is that we're CPU bound. This suggests that a spiffy quad core i.MX6 Sabre Lite could halve the build time.